Camp Caillet offers a large open space with excellent camping and gathering spaces for you and your wedding party. Looking for a location where your guests can relax, space for open-air dining, camping in the tree-covered campsites - choose Camp Caillet.
The location, just outside Nanaimo, is perfect for visiting guests and we have a large parking lot with overflow parking on the main field. Access to the camp is wide enough for additional trailers and RV's to be brought on site as accommodation, additional washrooms and shower facilities for your wedding party. Our commercial kitchen is ideal for your caterers and provides plenty of space and serving for meals.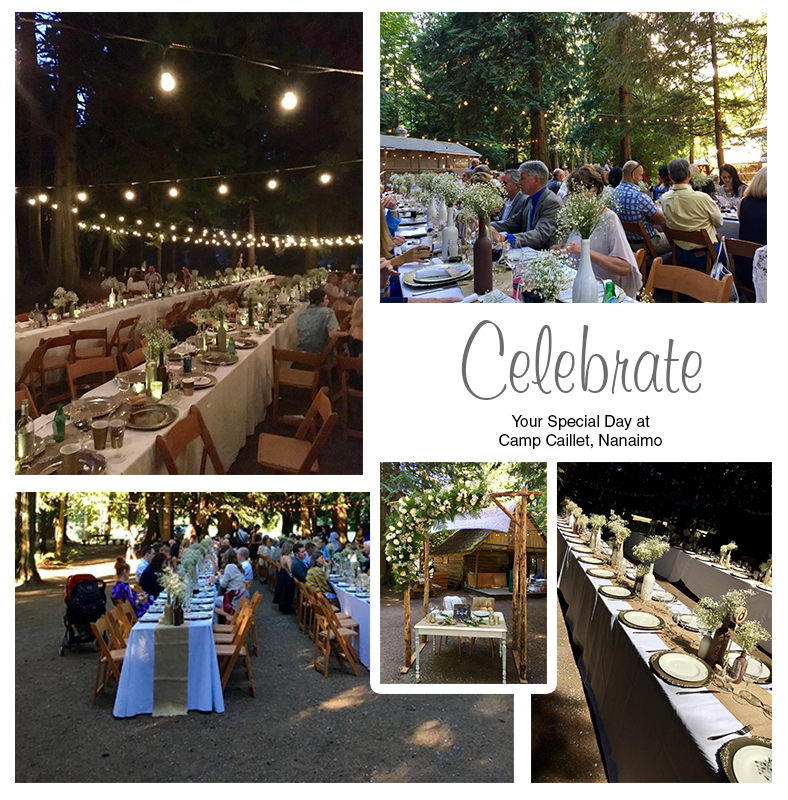 Wedding Party Rates
All wedding parties can be secured during the months of June, July and August. Unfortunately, outside of these times we cannot guarantee availability due to regular bookings at the campground. A deposit of $1,000 CAD is required at the time of booking to secure your reservation. Our wedding rate is $2,500 to cover the full use of the campground and its facilities for a 2 day period (Friday am to Sunday am). Additional days (setup/breakdown etc) can be secured for $275/day.
Insurance
All wedding parties must be accompanied by a certificate of general liability specifically for your event that indemnifies Camp Caillet, its Management Team and Scouts Canada against any and all claims. General Liability can be purchased from any mortgage broker and costs in the region of $150.
DJ's, Bands and Music
Camp Caillet is located in the governance area of the Regional District of Nanaimo. If you are proposing loud music, the RDN bylaw states that it must cease by 11pm. No extension of the bylaw is possible and we insist all noise is reduced by 11pm.
How to make your wedding reservation
To place a wedding reservation, visit the Booking Page and select Wedding from the booking type at the top of the form. Once you have completed the form, a cost calculation will be shown for the dates selected and you will receive an email with instructions for your deposit and return of the rental agreement. Your booking will not be confirmed until the deposit has been received.
Deposits
We will charge a deposit of $1,000 to your credit card at the time of your booking and full payment is due 90 days before your event. Your deposit will be returned to you 30 days after the event if:
i) The camp is left tidy and as you find it
ii) We have received no complaints from the Regional District of Nanaimo regarding excessive noise after 11pm.
We reserve the right to hold your deposit for up to 30 days to give appropriate time for any formal complaints to be made.
Payment
We require payment at the time of booking using a valid credit or debit card.
Cancellation
We understand that sometimes a reservation cannot be completed. We will refund your deposit and wedding booking fee under the following scale:
0 - 30 days, 50% refund of booking total

31 - 60 days, 80% refund of booking total

61+ days, 100% refund of booking total

Notice of cancellation must be sent by email to
bookings@campcaillet.ca
or in writing to the Booking Secretary, 4161 Biggs Rd, Nanaimo, BC V9T 5P9